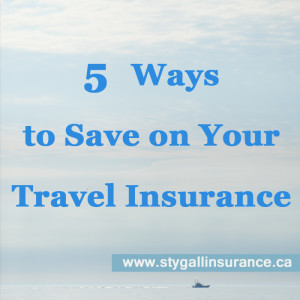 Having Travel Insurance when travelling is a must.  If you have a medical emergency, it can cost into the hundreds of thousands of dollars.  So coverage is essential.
There are ways to save on the premium while keeping the essential coverage that you need to be secure while travelling.
Here are 5 great ways to save.
1. Multi Trip Plans
If you are travelling more than once a year, it makes sense to apply for an annual multi trip travel insurance plan.  This coverage will insure you for an unlimited number of trips taking within one year of the effective date of your policy. You have a choice of # of days per trip.
Coverage for One Year – unlimited # of trips – choose 4 days, 10 days, 18 days or 30 days trips.
Top Ups for individual trips are available.  For example, if you choose a multi trip plan for 10 days, but one of your trips will be longer, you can purchase top up days insurance for that particular trip.
2. Family Rate
The cost of travelling for a family with children can really add up.
With the Family Rate discount, you are going to save.
If you are and adult with a spouse, both under the age of 60, with children, you can enjoy a family rate.  The premium equals 2X the oldest adult rate for the whole family.  This will cover the children too.
3. Travel Companion Savings – 5%
If you are travelling with someone, and both apply jointly, you can benefit from a 5% discount on your travel premium.  You must be a minimum of 2 adults, maximum 3 adults sharing accommodation whilst travelling.  This savings cannot be combined with the Family Rate Discount
So apply with your traveling companion together and enjoy a 5% premium savings.
4.  Travelling in Canada –  50% Discount
While travelling in Canada, many medical emergencies are covered inter-provincially.
However there are many medical emergency items that are not covered inter-provincially.
Such as ambulance.  In Ontario, the ambulance fee is $45, which is pretty low. But that can climb to over $500 in another province in Canada.
And visiting an ER and receiving treatment is not as easy as it is in our home province.  In Ontario, we would simply present our OHIP card.
Visiting another province, there is Paperwork!
Paperwork and red tape can create confusion and delays in treatment.  Plus arranging for the medical bills to be processed through OHIP.  With Travel Insurance, you are covered (within policy limits of course). With one quick phone call to the Travel Assistance Hotline, you be guided through the medical process, with all the perks and assistance to help you.
Travelling in Canada Discount is 50% of the regular rate.
5.  Deductible Savings
For those looking for essential travel insurance coverage, and increased affordability with premium, you can benefit from Deductible Savings.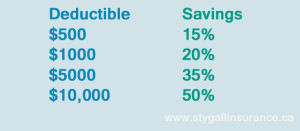 This is also beneficial for those who have automatic limited coverage.
For instance, some cruise ship packages offer travel insurance, but the limit is $10,000.  Which is not enough.  It really only gets you off the ship and to land.  Then what.
Well, you can add this travel insurance with a $10,000 deductible and benefit from a 50% savings.  Make sure though that your other coverage will definitely pay the first $10,000 and is listed as lst payor.  If your other coverage is listed as 2nd payor or has some kind of coordination feature – you should always get full coverage with no deductible.  Unless you are prepared to pay for the deductible out of pocket.
Deductible savings from 15% to 50%.
The above listed savings apply to the Travel Insurance brought to you by this website.
To benefit from these savings – apply online.
Wishing you all happy and healthy travels!
Travel Insurance info – Brochures and Instant Quotes
visit:  visit my travel insurance page here.
Tips and News,
Sign up for my newsletter here